Safe House at Aurora: An Exquisite Fusion of Drama and History Bares a Little-Known Aspect of America's Past
By Leo Stutzin, November 15th, 2016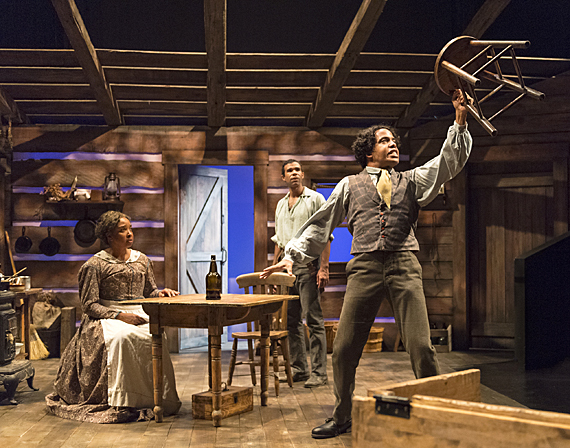 An emotional Addison (David Everett Moore) tells aunt Dorcas (Dawn L. Troupe) and brother Frank (Lance Gardner) about a talk with the sheriff.
Photos by David Allen
We've all read, heard and seen a good deal about the horrors of slavery in the United States, haven't we? But how many among us — black and white alike — know anything about the lives of free African-Americans in the old South? They numbered more than 260,000 in 1860, census takers reported, and I suspect that few of us ever gave them a thought, even if we took college-level courses in American history.
Keith Joseph Adkins' Safe House cracks open that knowledge gap for audiences, just as it did for the playwright. History lessons seldom deliver their insights with such vividness and force.
The drama, which is receiving its West Coast premiere at Aurora Theatre in Berkeley, focuses on the hopes, bonds, conflicts and illusions of a single family in 1843 Kentucky. But the family's story is part of a much broader social narrative that Adkins has exposed without distracting from the central struggles that make Safe House an engrossing theatrical event.
The three Pedigrews — Addison, brother Frank and aunt Dorcas — can trace their lineage as free Kentuckians for generations, to ancestors that included a child fathered by a white man with a black woman. Their freedom is tightly limited, however, because they aided a runaway slave almost two years earlier.
Those limits, arbitrarily set by the local sheriff, include a prohibition against staying out after dark, a requirement that they leave the doors of their primitive home wide open at every hour of day and night, a ban against setting foot in the nearby creek and daily visits by a white deputy.
With the two-year decree about to expire, Addison (a robust David Everett Moore) alone looks to the future with ambition and excitement. He's a first-rate maker of shoes — the best in the region, he insists — and he voices exuberant dreams of prosperity and respect, even among whites.
Frank (an effectively edgy Lance Gardner) possesses neither dreams nor intentions of abiding by draconian rules. He's an angry rebel who's primed to vent at any provocation, a trait tempered only slightly by the appeals of flirtatious girlfriend Clarissa (Dezi Solèy), with whom he is secretly involved. Their attachment has to remain clandestine, however, since Addison happens to see Clarissa as his future wife.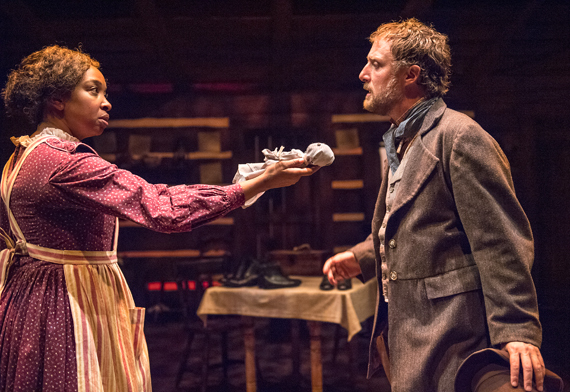 An appeal for human decency: Dorcas (Dawn L. Troupe) and patrolman Bracken (Cassidy Brown)

The mature Dorcas (Dawn L.Troupe) struggles with reasonable success to maintain tranquility within the household, and to preserve a childhood friendship with the deputy, Bracken, a bedraggled visitor who injects the drama with flashes of comic relief. He also suggests, albeit implicitly, that some southern whites were not bigoted sadists. Played with charm by Cassidy Brown, Bracken dispatches his assigned duties with transparent disgust, shares nostalgic affection with Dorcas, and displays an eager eye for the household's booze.
What little peace the Pedigrews know is shattered by the appearance of a terrified runaway (Jamella Cross, in a small but riveting performance), who forces everyone — including Bracken — to confront choices that can change their lives.
Do they protect their security and status by driving her off, or by exposing her to the authorities? Do they follow the dictates of conscience and help her escape to the North via the Underground Railroad? Do they find some other solution to the desperate situation? I won't tell, obviously. But I will suggest that the answer, and everything that precedes it, is well worth a visit to Aurora. Drama and history rarely mesh with such skill.
L. Peter Callender provided the taut direction, Callie Floor did the impeccable period costumes and Kate Boyd designed the rough-looking but smoothly functional set.
Safe House runs through Dec. 4 at Aurora Theatre, 2081 Addison St., Berkeley. Tickets are $32-$56 from 510-843-4822 or auroratheatre.org